Without pondering on which came first – the chicken or the egg – I'll talk about the egg. The chicken is pompous, pestering, extreme. The egg is modest, immediate and perfect. Even though it comes out ass-backward.

This deliberately off-key incipit, introduces the three movements of this 'scherzo': madness, then love and, finally, the sound of water the frog creates jumping into the ancient pond.
Madness.
I've always thought that a vein of healthy madness exists in the world of the Netsuke. Probably the artisans-artists who imagined, carved and signed them (not always with their own name) were a bit mad (pleasantly paranoid).
Probably a bit mad also (definitely fetishists) the men that commissioned them, bled themselves dry to buy them and then proudly exhibited them.
Probably slightly mad the fanciers who, in today's vulgar, stupid and violent world, study collect caress these miniature universes, micro-syntheses of an entire civilization, glimpses of profound wisdom and instants of absolute, not necessarily chaste, pleasure.
Definitely mad this author then who decides to address Netsuke scholars and collectors but will not talk about Netsuke. Instead, I'll talk about the Chinese ancestors of Netsuke, called "Chui-tzu" (zhuizhi or guajian) : the 'Chinese toggles', translated as 'counterweight' and at times wrongly cited as 'karamono' or 'tobori'.
Avoiding what's already known, I'll try to highlight only the differences between Netsuke (and certainly whoever is reading this knows more than I) and Chui-tzu
(and certainly whoever is reading this knows more than I, but doesn't know he\she knows it).
Every Netsuke collector should have at least one Chui-tzu. Not because a Chui-tzu is more beautiful, more precious, more 'artistic' than a Netsuke. But for a simpler, perhaps more childish, reason. A Chui-tzu can offer the fresh, springtime feeling of one's, far off in time (at least for this writer), first love.
It seems little. It is everything.
Even someone, who at this point knows everything about Netsuke, has read everything, owns the best and dreams of nothing more, can become young again, can rediscover that happy disorientation of being immersed in the palpitations of passionate, first love. It would not be a betrayal of a life-long passion. It would be reviving it with a new flame.
Love.
9  reasons for an unreasonable love.
1
Chui-tzu are older than Netsuke. Someone (Julia Hutt 2003) holds the contrary.
A little like the story of the chicken and the egg. Remember?
2
Chui-tzu are less extreme. More human. It's not necessary that everything is perfect. Realism does not wear itself out in hyperrealism. Wittiness is not taken to the grotesque.
The search for perfection does not arrive to the point of theorising ritual suicide. 'Chinatown' already is part of our life; Japanville' is not yet born and perhaps there is a reason.
3
Chui-tzu are cuddlesome. Born to be caressed. Their carving waives much apparent beauty and bravura just so they may be cuddled and petted. Like a puppy, they depend on us. You could never abandon them in a bank vault. If they don't live in your pocket, if they don't take on a patina from your skin oils, if they aren't warmed up by your heat, they suffer.
4
A Chui-tzu is a valuable first aid remedy. The Chinese have always known that a symbol has the same effectiveness as the thing itself. The symbol of a medicine heals as much as does the medicine itself. With no side-effects. Since ancient times, many plants and their roots, the concentrated source and origin of the spirit that lives in every plant, have had a fundamental role in the pharmacopoeia of Chinese medicine. In an emergency, you can quickly grate or burn to ash a Chui-tzu carved from a medicinal root and take it at any time and in any situation. The usual First Aid will arrive after, but in the meantime …
5
Chui-tzu are classy poverty. It's like comparing St. Frances of Assisi's rough habit to the damasks and brocades and the slightly dismal (if you think of how much it costs and especially who paid for it) splendour of the Roman prelates.
6
Chui-tzu intrigue you, challenge you, play with you. A Chui-tzu is almost always much more than what it appears to be: a rebus, a riddle, a polysemy, a cryptograph. It is a secret that only the two of you know and it isolates the two of you from the rest of the world. A secret that can also be pleasurable to share, if love demands it, but it will hardly whet the appetite of a thief or an impatient heir.
7
Chui-tzu are much rarer on the market and in auctions, much more difficult to find.
So finding one is truly thrilling.
8
Chui-tzu are cheaper. They don't cut out any admirer. You'll never become rich with Chui-tzu, you'll never become poor, but you'll almost certainly become better.
9
Chui-tzu are almost never signed. So they're difficult to date. Often, they're made quickly and roughly in poor materials. Their story has neither provenance from famous collections nor prestigious bibliographical references.
There is nothing – no name of the artist that carved it, no name of the person who wore it, no authority of the expert who wrote about it in fundamental books, no adamantine charisma and fame of the antique dealer who offers it to you – there is nothing and no one to tell you how much it is worth.
With the dignity and the pride of one who does not have to demonstrate anything to anyone, every Chui-tzu relies only on you.
You have the sensitivity, the eye, the intuition. You are the one to decide if you'll love – if you already love – this object you see for the first time and that you will perhaps carry on you forever and forever caressing it.
With a Chui-tzu you have a love affair absolutely free from any rational or, worse yet, financial consideration. It is, as it must be, irrational and total love.
How and where to see and study the Chui-tzu
The Chui-tzu can boast of much fewer bibliographical sources and private and public collections than the Netsuke. This is not the last of the reasons for their appeal. They offer to each of us at the dawn of the third millennium, and with no limits of wealth or age, the emotion of adventuring into unexplored territory and perhaps making extraordinary discoveries.
Chinese sources are few and unknown to me. Chui-tzu lack bibliographic references (citations in printed material), artistic references (reproductions in paintings or sculpture), archaeological references (documented finds in excavations).
They have never been objects worth studying: toggles often made by amateurs, for personal use or as a gift for a friend, at times to solve the universal problem of a wedding gift that costs little but means much. It's the thought that counts, here more than ever.
Without an enticing market value, meant for people from the Chinese lower classes or for the wetbacks d'antan, the Chui-tzu still live today in a terribly refined and truly 'exclusive' shadow zone.
The only bibliographic sources I found dedicated to the Chui-tzu are these: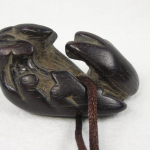 1
the book "Substance and Symbol in Chinese toggles" by Shuyler Cammann – 1962 (reprint 2005), dedicated to the C.F. Bieber collection.
The book is an exhaustive 256 pages, well documented especially on materials and symbology, but limited (a sole private collection, gathered in China, end of the Twenties to the beginning of the Thirties in the last century) and dated. It has only
5 colour photos and 188 b/w photos.
2
The site www.lasieexotique.com/mag_toggles/
"Chinese Toggles" – Arts of Asia – March-April 1986 by Hedda and Alistair Morrison.
In synergy, see also: www.lasieexotique.com/toggles.html. Nothing new, but lots of beautiful photos. The Morrisons propose another name for the Chui-tzu: "Guajian".
Hedda and Alistair Morrison did publish on "ARTS OF ASIA2 march-April 1986 a beautiful article "Chinese Toggles – a little known Folk Art" – 8 full pages with 77 black-and-white photos.
3
The article by Beppe Berna "Una scimmia per bottone" (A monkey for a button), published in 'Tribal Arts' (Autumn-Winter 2000) and downloadable on the Web. Six pages, 23 lovely colour photos, exclusively concentrated on the monkey theme as Beppe proposes a small collection of monkey Chui-tzu. The reference to possible antecedents of Indian, but mainly Tibetan, artistic stylistic features is interesting. In fact, according to Cammann similar counterweights were already used in Tibet and Mongolia and probably arrived in north-west China together with other foreign influences during the Yuan or Mongol Dynasty (1276-1368), if not before.
4
The article written by American author Margaret Duda and entitled "Chinese Toggles as Counterweights and Charms" – published in Arts of Asia in the September-October 2004 issue. Nine pages long, the article includes fifteen beautiful photographs by her professional photographer son Paul Duda illustrating thirty-eight toggles. This article is a very comprehensive reference and the Introduction to a book on the subject by the author, which should be published next year and will include over 1500 photographs. Margaret Duda has spent many years studying Chinese toggles and eight years researching her upcoming book, making her one of the authorities in the field of Chinese toggles.
5
An extraordinary discovery for which I claim absolute and eternal merit (being, as it always happens, due to chance) and which perhaps represents my most useful contribution : the web-site www.powerhousemuseum.com
Here one can study, even though laboriously, the colour photos of about 280 Chui-tzu collected in Peking from 1940-1942. Without a doubt, this is the richest source of images, both for iconography and materials, found up to now.
6
Priceless : "The ultimate Netsuke Bibliography Online (TUNB)" created by Norman L. Sandfield, who gift us with more than 30 titles all focused on Chinese Toggles at www.internetsuke.com/tunb/
As far as I know, Chui-tzu collections are as follows:
- the C.F.Bieber collection at the Field Museum in Chicago, USA
- the collection at the Brooklyn Museum in New York, USA
- the collection created by George N. Kates at Columbia University, New York USA
- Mrs. William Gleysteen's collection in Jenkintown, Pennsylvania, USA
- the Powerhouse Museum collection in Sydney, Australia
- Glenn Vessa of Hong Kong has quite a large collection, collected over the past 50 years (info due to Tim Mertel)
- probably there are also public and private collections in China
Mizu no oto
Briefly: only museums not exactly near home, some sites on the Web and a single monograph written 47 years ago. However, I am certain that other public and private collections of Chui-tzu are just waiting to be made known and that in each of the hundreds of books about the Netsuke can be found pages, perhaps chapters, dedicated to their Chinese precursors. I even think that in many Netsuke collections there are some Chui-tzu in incognito and probably a bit snubbed because they look naïf and are not signed.
I owe a confession to the reader and I'd like to ask a favour.
The confession: I've tried to arouse interest, create curiosity, provoke reactions, serenely risking – if it serves – ferocious criticism. What's important is to open a discussion, to initiate a dialogue.
The favour: to receive from all of you better documented news and more in-depth judgements on the fascinating theme of the extraordinary Netsuke's "poor relatives".
I've tossed a stone into the pond. I've created a sound of water: the "Mizu no oto" in Basho's haiku. Now I hope for an echo. Another sound of water.
Even the sound of water flushing.
Franco Bellino