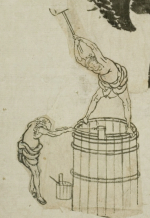 Going Nuts for a Cooper (not Gary)
My dear Franco,
since you're going nuts for the "cooper" netsuke,
I'm sending you an interesting drawing of (maybe*) Hokusai. It was on auction at Lempertz in  June 2009 and was sold for only 6.600 Euro  (not enough, in my opinion, for an authentic Hokusai).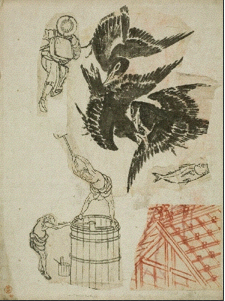 As you see in the lower left corner, Gakyorojin, 'the old man crazy about painting'
put his cooper in unstable balance on the edge of the  barrel. But he did not draw the Fuji.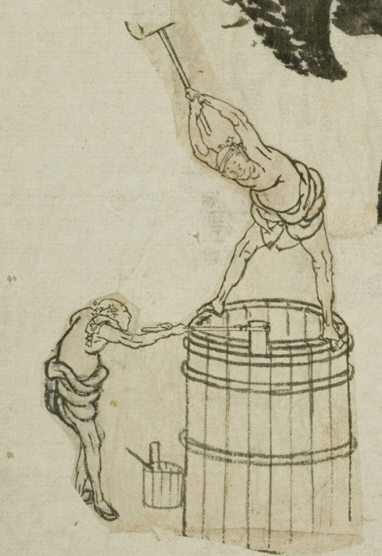 I feel him looking at his sketch and grumbling,  "Not bad, not bad… but now where the hell can I put sacred Mount Fuji ?"
Suddenly the silhouette of the cooper's wide apart legs dictate to him (he already knew it even before dipping his brush into the ink) where the sacred Mount Fuji must be.
So the barrel becomes a photographic zoom. The man towers. Mount Fuji is so small.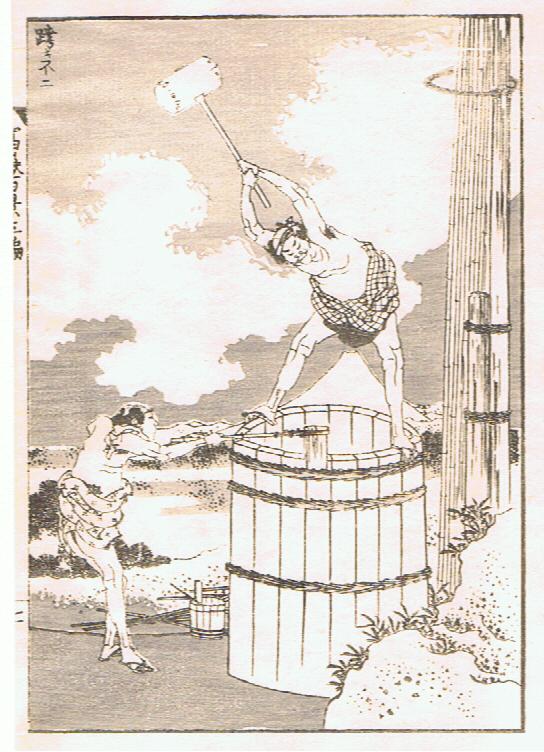 But soon the man will get down or fall. Instead Fuji will be there forever.
It's like being
in autumn
on trees
the leaves.
It looks like a haiku, but it's from an Italian poet :
Si sta come
d'autunno
sugli alberi
le foglie.
And yet it is a man who creates all this: not immobile (he will fall), not eternal (he will die), not forever on the edge of his barrel,
or hanging on its fragile stem to the branch, but still able to deeply and totally live every instant, to joyfully beat his mallet and to create poetry.
You write, my friend :
Saying that Hokusai put sacred Mount Fuji in an irreverent position is an understatement.
I ask:
is it sheer madness or sheer genius?
I'd love to end by giving you a few quotes. My dear old chap, you should use each of them as zen 'koan' and meditate deeply.
They may talk of your "cooper", of your friend Roberto or (who knows?) of you :
1
We are all born mad.
Some (happy few) remain so.
2
There is a sure pleasure
in being mad which none
but madmen know.
3
Men are so necessarily mad
that not to be mad would amount
to another form of madness.
4
The folly of one man
is the fortune of another.
5
Those who realize their folly
are not true fools.
6
He who lives without folly
is not so wise as he believes.
7
Do you think that the things
people make fools of themselves about
(like this "cooper" netsuke by sheer coincidence)
are any less real and true
than the things they behave sensibly about ?
Frank O'Witty
1 Samuel Beckett    2 John Dryden    3 Pascal    4 Francis Bacon       5 Chuang-tzu      6 La Rochefoucauld    7 George Bernard Shaw
*
Yes, I know : the cooper in this sheet does not look as a first draught. Probably it is a preparatory drawing for the woodcarver
of the "Matagi Fuji" of the "100 views of Mount Fuji"(III.70). Probably it isn't even by Hokusai's hand,
if we follow Jack Hillier ("Hokusai drawings" 1966 page 21). But still it is interesting referred to your "cooper" netsuke, isn't it ?