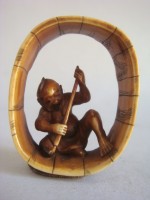 Hokusai was undoubtedly crazy.
In fact his signature was Gakyorojin, 'the old man crazy about painting'.
That's where our story begins.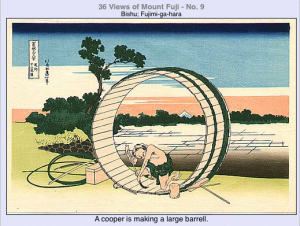 When around 1830-32 Hokusai creates the figure of "the cooper" for his
"36 views of Mount Fuji", he draws him inside the enormous circle of the cask
and put the sacred Mount Fuji in a corner at the bottom.
But shortly after, his genial madness drives him well beyond that: on the page of the cooper, in the third volume of the "100 views of Mount Fuji",
he positions "the cooper" standing unstably on the cask. And where does Hokusai put the sacred Fuji ?
Saying in an irreverent position is an understatement.
Some years pass and another madman enters the scene, this time mad for the creation of incredibly beautiful netsuke. He decides that Hokusai – one of the great geniuses of humanity, surely now in the serene company of other old madmen like him who were prodigiously creative right up to the last hours of life: Tiziano and Picasso and Michelangelo who at almost 90 destroyed an already completed splendid Christ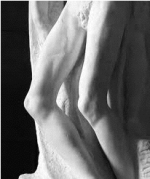 in order to insert the new figure of the Son, literally inside the belly of the Virgin-Mother, in the Rondanini Pietà
(perhaps the most valid reason for living in Milano today) –

he decides that Hokusai merits a homage : his masterpiece as a netsukeshi.
And he carves "the cooper in ivory".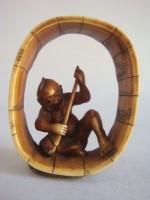 A netsuke which, in order to understand its vertiginous madness,
you must hold in your hand, look at it religiously from every one of its thousands of viewpoints, and perhaps only then you realize that your fingers are touching something
more than a masterpiece : simply a mad dream made real.
That this mad netsukeshi is actually Morita Soko, to whom the netsuke was attributed, is basically irrelevant. At such levels of madness, oops, at such levels of genius, the name is an irrelevant variable. Just like the little man inside the big cask
is not only "the cooper": he is Humanity triumphant.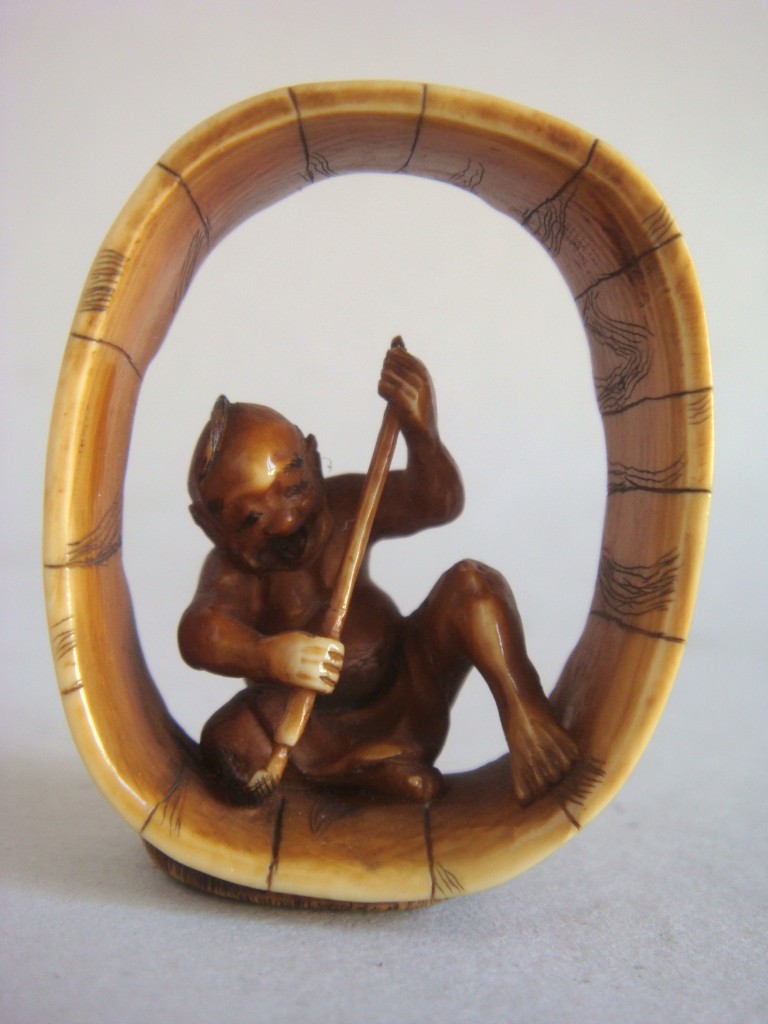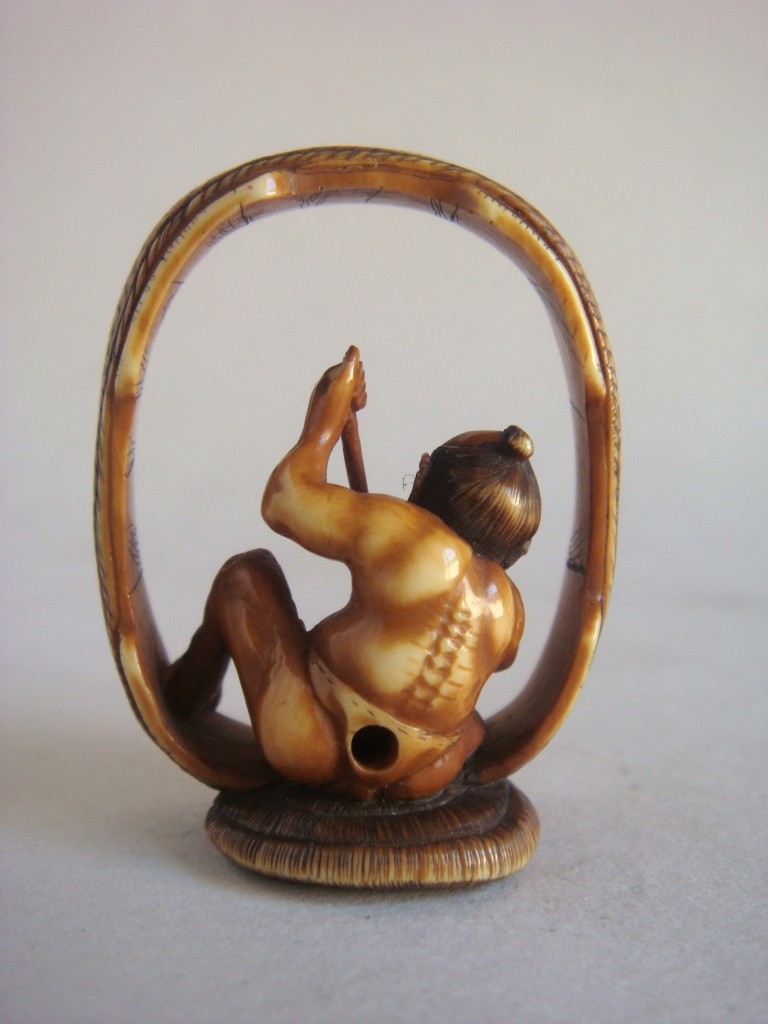 Then the moment arrives for another madman: his name is Rino Tamanini.
He sees "the cooper" netsuke; buys it in a flash and makes it the crown jewel of his collection.
Today the last, or perhaps the last but one, madman enters the game: the current owner of "the cooper netsuke". He's Roberto Gaggianesi,
a famous Milanese antiquarian who for decades has loved, collected and offered in Europe splendid netsuke.
Roberto talks about his "cooper" passionately. And then adds (he doesn't say this, but one sees it in his eyes):
"This netsuke is a joy. It's a joy to look at. It's a joy to touch it lightly. It's a joy even without seeing or caressing it,
it's already a joy just to know that it exists. I'd be crazy to sell it. I'd have to find someone crazier than I am."
Highly unlikely.