Because a zan par is a beautiful, precious, rare and most of all true object.
Because a zan par has been created with great love and deep devotion.

Because it embodies centuries and centuries of Tibetan culture and thousand of books
on religion, medicine, history, sociology, ethnology, myths and legends, scientific therapies
and animistic superstitions : all of these and much more in just a few inches carved
into a single piece of wood that you can hold in your hand.
Because every zan par is an object not made to be sold, but to be entrusted to a holy person,
a Lama, who would use it for many different rituals and would always religiously keep it
wrapped in sacred cloths.
Because every zan par is a tool for prayers and rituals born thousand of years ago and alive
still today.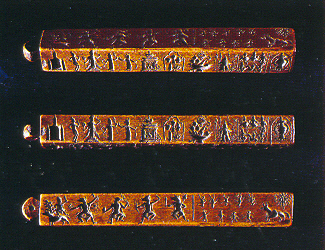 Because it is very likely that your zan par was one day secretly hidden away,
then dangerously taken from Tibet to Nepal or India by a refugee.
Because your zan par has tens, sometimes hundreds, of carved images.
These images are used as moulds to create with tsampa- a mixture of barley flour and water,
dried dri (female yak) cheese and sometimes milk and salty butter and sugar –
ritual offerings which may act
as a substitute for the real object or animal they represent.

Because every single image that you see on a zan par has its history,
its thousand year-old history, its precise aim. An aim which could be religious or ritualistic,
but also social or therapeutic; for example, it might relieve specific physical or psychological ailments
either of a single individual or a whole community.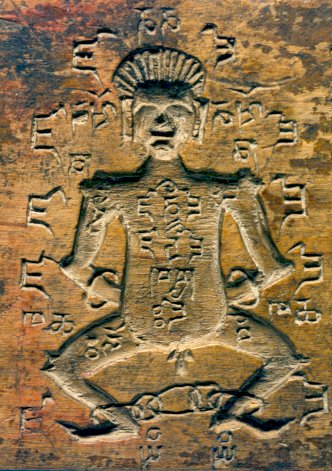 And finally, because the zan par that you're handling contains,
as in a jewel-case, the soul of an entire population.
And this soul – if you have the patience and the humility
to listen to it – this soul will talk to you.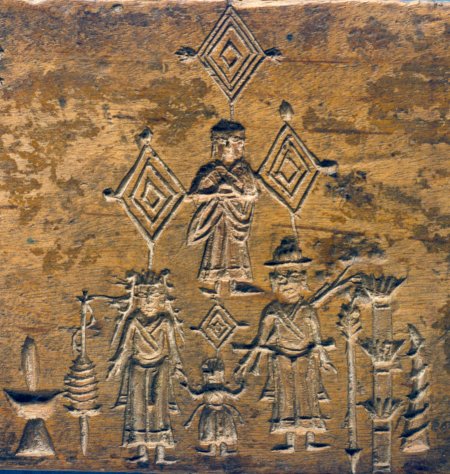 Obviously all this applies if your zan par is a true zan par.
Not if it is a zan par made only to be palmed off to prying tourists,
bewitched by this exotic object's mystery.
I would like to give you a few 'tricks', a few secrets found over many years
of study and travels, or – better, a few factual criteria to use when you pick up –
if you're lucky – your true zan par :

                         If it doesn't stink, it stinks !
To recognize a true zan par close your eyes and sniff.
A true zan par stinks.
It stinks just as a real yak stinks, as rancid butter stinks,
as life sometimes stinks when it is true.

After your nose, your fingers. A true zanspar asks to be caressed.
You cannot just look at it with detachment, coldly : your zan par is asking you
to skim along the lenght of it with the tips of your fingers.
In silence, with closed eyes, religiously.
A true zan par talks to your fingers because it is as silky as the most precious silk.


Judge if a zan par is true with your nose first, with closed eyes.
Study it with the tips of your fingers right after, eyes always closed.
With closed eyes, your concentration is deeper : the zan par will then talk to you
and you will be able to listen to it.
Only after the nose and after the fingers, only if it stinks and is silky,
only then can you open your eyes and look at it. Take lots of time.

Is it easy to see that it has been carved with love, with sincere passion,
with respect, with devotion, with deep faith ?
You don't need to be an art critic to observe it,
you don't need to know the Tibetan religion to understand it.
Everybody immediately identifies with a true zan par
because truth speaks immediately to everybody.


Look at its smallest, simplest figure.
The carving of just one image is enough to judge a zan par which has hundreds of figures.
In a true zan par nothing is rough or coarse, nothing is approximate, nothing is hastily carved.
Nothing is only ornamental or superficial. Even the most unskilled eye sees it.
Even a blind person immediately  sees it, because the hyper-sensitive nose and fingers
of the blind immediately reveal the truth.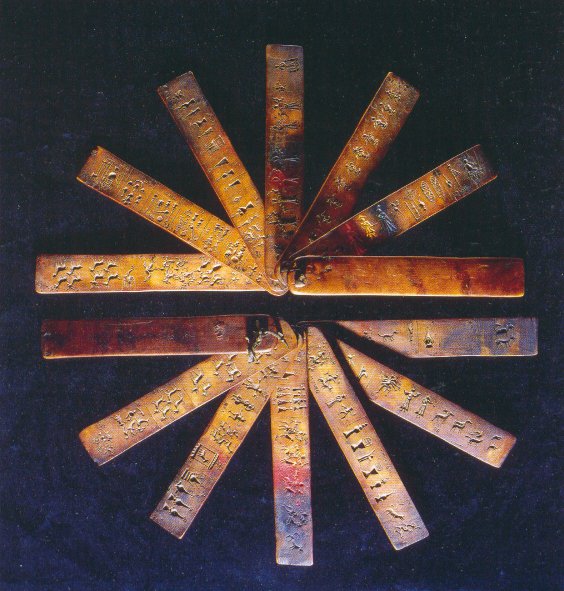 If it stinks, if it is silky, if the smallest of figures is carved with infinite care and passion,
then it is a "good" zan par, it is true.
A true zan par is beautiful because is true.
A true zan par is true because is beautiful.
A zan par is true and beautiful because it is silky and stinky.
If it doesn't stink, it stinks.