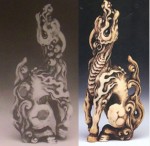 Some time ago (it was 7 April 1837) I told you a fairy-tale. It was the story of a king and a little boy. Since I don't want to tell you about that fairy-tale today, here's the summary you can find on the Web: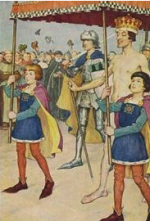 Once upon a time there was a King who cared for nothing but his wardrobe.
One  day the King hires two weavers who promise him the finest suit of clothes from a fabric invisible to anyone unfit for his position or just hopelessly stupid. The King cannot see the cloth himself, but pretends that he can for fear of appearing unfit for his position or stupid. His ministers do the same.
When the swindlers report that the suit is finished, they mimic dressing him, and the King then marches in procession before his subjects. All the people standing by, and those at the windows, cry out: 'Oh, how beautiful our King's new clothes are!'
Only a child in the crowd looks, then looks again, and cries: "the King is naked!"
Beauty is indeed in the eyes of the beholder
The new fairy-tale (no fear: it's just a fairy-tale) tells the story of the famous King of netsuke collectors and of a child born on 9 April 1939, one hundred and two years later than the other little boy who saw the King naked.
One day, this famous King of collectors sees a netsuke and falls in love with it. He decides to buy it, and over the years as he becomes increasingly famous, he convinces everyone that his netsuke – a Kirin – is the most beautiful ever seen (by him), the most beautiful ever carved: so beautiful that no one ever before and no one ever after could have surpassed it.
Even now, his Kirin is considered to be the most famous of all netsuke by scholars, collectors and merchants, although they have never seen it except in a photo.
The 71 year-old boy.
One day, a little boy who knew nothing about netsuke saw the photo of the most famous Japanese netsuke in the world and thought to himself:
* Hmph, it's not so famous. You only see one side of it, as if you went around it
you might discover stuff that you shouldn't see.
** From the looks of it, it wasn't even born as a netsuke. It's too big, too delicate and has too many sharp angles. Maybe it's simply an okimono, badly adapted on the side you never see with what seems (but we're not sure) a himotoshi.
*** And last of all, from the looks of it, it's not even made in Japan. Since the King and all his courtesans openly say that this Kirin is "clearly and undeniably of Chinese inspiration", might it not be that besides being inspired by China, it was also carved in China?
These are terribly irreverent thoughts.
It would be discovered that the most famous Japanese netsuke is not famous,
is not a netsuke, and is not Japanese.
To avoid the inevitable accusations of "impiety", accusations that the reader is already formulating mentally and which had already created burning problems for Aristarcos of Samos, Copernicus, Galileo and Giordano Bruno, the little boy wisely restrains himself from saying out loud : "the Kirin is nake d!".
That's why I was the one that had to write this new fairy-tale.
Hans Christian Andersen
Post Scriptum
I would have never gotten involved in the 'Kirin' Meinertzhagen which I've never seen and probably will have the chance to see, at least in my current reincarnation,
if last week I hadn't had the privilege of reading an article that Roberto Gaggianesi will publish in "Netsuke", the bulletin of his gallery, La Galliavola.
My curiosity aroused, I was delighted to find a lively and amusing debate in Internet at the Forum of the International Netsuke Society. The debate, which began on 26 December 2004, went on for about 5 years.
A truly instructive read. Famous scholars and collectors took part in the debate.
Some of them, "Warburg" and "Shugenja" (pseudonyms, of course) in various ways and with a expertise that I can only dream of, hypothesized, suggested, hazarded, but without openly saying what our little boy had impudently thought: the most famous Japanese netsuke is not famous enough, is not a netsuke, is not Japanese, and practically no one has ever seen it.
To give an elegant closure to this funeral of a legend (no fear: it's only a fairy-tale), I recommend the warm voice that already accompanied the end of another myth, Princess Diana of England.
Here's the link: http://www.youtube.com/watch?v=lWkvFNOYWd0
In his album 'West Coast', Elton John sings:
We cheated the system
Never batting an eyelid
Seeing only the good
Through the holes in our shoes
And our halos were rusty
But we wore them proudly
We were two little gods
In the Emperor's new clothes